How do you make a pitiful showing of 30 people appear to be a crowd?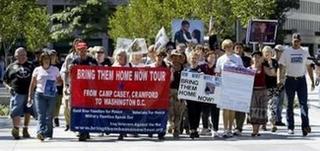 This is the group of 30 people Cindy Sheehan attracted from throughout the 50 states of the US to march on the White House yesterday, September 21. Not much of a showing if you ask me. Confederate Yankee
reports
that all the major news media left out this one fact - only 30 people participated.
PowerLine Blog
After a carefully stage-managed vigil by liberal PR firm Fenton Communications, and a pair of 3-week long national bus tours to drum up support for her cause, "Mother Sheehan" managed to bring with her just this tiny gaggle with her to the gates of the White House. The organizers backing her show hope to draw "tens of thousands" of fellow protestors this weekend, but if this sad crowd and last night's turnout of just 150 in New York are any indication, the fledging anti-war movement of Cindy Sheehan is all but dead.
And Getty Images, a top source of photos for professionals, carefully cropped each of the photos they are selling. It looks like a crowd when you close in on a handful and leave out the "panorama" showing all 30.
Getty's 12 photos