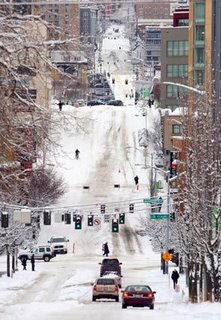 We got out of Los Cabos only an hour late. We had to pay big bucks for a taxi because Shuttle Express isn't doing home delivery. They wouldn't have trouble at our home a mile north of the Seattle city limites, but I don't blame them. And ... Seattle is leaving the streets frozen on purpose... The street department is not using salt... to save the fish!?
Seattle Times Newspaper
: [In Seattle] there's snow and ice left on major arterials by design. "We're trying to create a hard-packed surface," said Alex Wiggins, chief of staff for the Seattle Department of Transportation. "It doesn't look like anything you'd find in Chicago or New York." The city's approach means crews clear the roads enough for all-wheel and four-wheel-drive vehicles, or those with front-wheel drive cars as long as they are using chains, Wiggins said. The icy streets are the result of Seattle's refusal to use salt, an effective ice-buster used by the state Department of Transportation and cities accustomed to dealing with heavy winter snows.
"If we were using salt, you'd see patches of bare road because salt is very effective
," Wiggins said. "We decided not to utilize salt because it's not a healthy addition to Puget Sound."