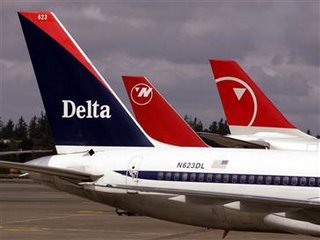 How will they become one airline when they can't work together as two?
Local News | Planes bump on ground at Sea-Tac | Seattle Times Newspaper
:
Two flights bound for the Midwest from Seattle were canceled this morning when the passenger-filled planes backed into each other as they left their gates, airport officials said. No one was injured. A Delta 737-800 plane, Flight 1288 to Cincinnati, was backing away from its gate at the Concourse Terminal at Seattle-Tacoma International Airport, shortly before 7 a.m, according to airport spokeswoman Terri-Ann Betancourt. At the same time, Betancourt said, a Northwest 757-300 plane, Flight 620 to Minneapolis, was backing away from its gate at the South Satellite Terminal.