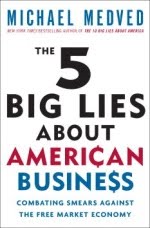 Michael Medved will be discussing and signing his new book
The 5 Big Lies About American Business.
Townhall - 8th Ave & Seneca St. (east side of I-5) - 7:30 PM Thursday - Tickets at the door $5.
Michael is the best at communicating our conservative principles. And he willingly engages those who disagree. It will be a very interesting evening. See his
website
.