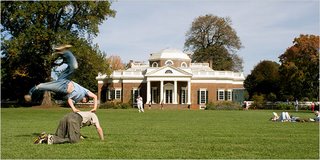 Our daughter, son-in-law and two grandchildren live 3,000 miles away in Charlottesville, VA. But almost every time Grandma - my lovely wife - complains about the distance, the response is "but Charlottesville is beautiful." And it is. Beautiful, historic and interesting.
The New York Times
visited and did "a weekend in..."
ARRIVING in Charlottesville from the lush, rural Virginia countryside, you almost feel like you've stepped back into ancient Rome. The Rotunda, the centerpiece of Thomas Jefferson's design for the University of Virginia, was of course built to resemble the Pantheon and the neo-Classical facades of the college buildings seem to be right out of Caesar's time.
But the town itself is far more cutting-edge than its architecture. As American regional cuisine has gone upscale over the past decade, Charlottesville has been at the center of many changes, with local chefs updating traditional Southern fare by marrying grits, fried chicken and other standbys with French, Asian and other influences. The town's music scene, too, has served up megastars like the Dave Matthews Band and helped to launch the modern roots-rock wave. Even Virginia wine, once more Burger King than Bordeaux, has caught on. Local vineyards that never used to get invitations to competitions now hold their own with the finest of California or France. Even Jefferson would be proud — the third president succeeded at nearly everything, but he couldn't coax a decent wine out of Virginia's soil.
That's a sample. Read about what there is to do in the area of this fascinating city two hours' drive from D.C.