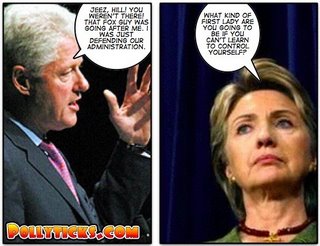 Obama might do miracles: Now the blind can see! The left just noticed that Bill Clinton has a problem with lying - for the past 20 years.
The Nation
:
What guidelines should govern Bill Clinton's future activities if Hillary becomes Secretary of State? Recent events suggest that at least two are necessary:
no more favors for human rights violators in exchange for big contributions to the Clinton Foundation;
and no more lying to the news media about such deals.
It's worth remembering the nearly-forgotten story we could call "Bill Clinton and the Kazakh uranium." As Jo Becker and Don Van Natta Jr. of the New York Times reported in January, 2008, Bill Clinton was part of a corrupt three-way deal in 2005 involving the president of Kazakhstan, Nursultan Nazarbayev, whose human rights record has been criticized by many, including the Bush White House -- and Senator Hillary Clinton. Kazakhstan has uranium--one fifth of the world's reserves. The president of Kazakhstan wanted to be named head of an international election-monitoring organization--the same one that had ruled his election fraudulent.
What to do? Bill Clinton had the solution: it centered on a Canadian financier named Frank Giustra who wanted to get in on the Kazakh uranium projects. Clinton and Giustra flew to Kazakhstan in September 2005 on Giustra's private jet and met with President Nazarabayev. According to the New York Times, Bill "expressed enthusiastic support for the Kazakh leader's bid to head an international organization that monitors elections," despite official opposition from the US as well as from his own wife. Two days later, Giustra got the uranium deal he wanted. And shortly after that, the Clinton Foundation got its single largest contribution -- from a foundation controlled by Giustra -- $31 million.
The contribution was secret, of course. Then Jo Becker and Don Van Natta Jr. of the New York Times got onto the story. And then the Clinton people started lying. When the Times asked about Bill's trip to Kazakhstan with the Canadian financier, Clinton sent a written response declaring that the two took the trip together "to see first-hand the philanthropic work done by his foundation." The paper reported that "a spokesman for Mr. Clinton" said Bill "did nothing to help" Giustra get his deal. That story fell apart when the president of the Kazakh uranium project told the Times that the Canadian did discuss the deal directly with the Kazakh president, and that, according to the paper, "his friendship with Mr. Clinton 'of course made an impression.'"