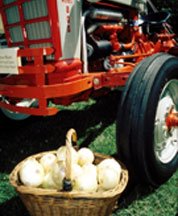 My place of birth, Walla Walla, Washington - liked it so much they named it twice - has earned an excellent reputation the past decade by developing a first-class wine industry. The area has dozens of wineries and they have earned awards. They have developed the city with excellent restaurants and places to stay as well. It is in the far southeast corner of Washington - very remote for Puget Sounders - 300 miles away. See the map below. Before this recent development, other than being known for my birth there, it was known for hosting Washington's maximum-security prison; let's pass on that. And it has a unique agricultural product - sweet onions.
Wikipedia
: The
Walla Walla Sweet Onion
... Over a century ago on the Island of Corsica, off the west coast of Italy, a French soldier named Peter Pieri found an Italian sweet onion seed and brought it to the Walla Walla Valley. Impressed by the new onion's winter hardiness, Pieri, and the Italian immigrant farmers who comprised much of Walla Walla's gardening industry, harvested the seed. The sweet onion developed over several generations through the process of carefully hand selecting onions from each year's crop, ensuring exceptional sweetness, jumbo size and round shape. The Walla Walla Sweet Onion is also designated under federal law as a protected agricultural crop. In 2007, the Walla Walla Sweet Onion became Washington's official state vegetable. Walla Walla Sweet Onions get their sweetness from low sulfur content, which is half that of an ordinary yellow onion. Walla Walla Sweets are 90 percent water. That, combined with Walla Walla's mild climate and rich soil, gives the onion its sweetness. The Walla Walla Sweet Onion Festival is held annually in July.
Sweet Onions on parade: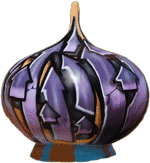 "Colorful onions, zany onions and brainy onions, winsome and perfectly roasted onions, glittery onions and graffiti onions, flowery, woven, and delftware onions... "Sweet Onions on Parade features onion sculptures on Walla Walla sidewalks from May through October 2008. Each is a unique vision of what's possible with a little imagination, some artistic skill, and a giant fiberglass onion." I can't tell how large these monsters are. Worth a trip, don't you think? The tourism web site:
Walla Walla, Washington
View Larger Map