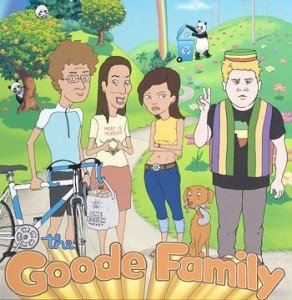 You can enjoy fun being poked at the sincere, serious people who fall for every environmental cause du jour - on prime-time TV; it started Wednesday on ABC
WSJ.com
:
Director Mike Judge's new animated television series "The Goode Family" is a send-up of a clan of environmentalists who live by the words "What would Al Gore do?" Gerald and Helen Goode want nothing more than to minimize their carbon footprint. They feed their dog, Che, only veggies (much to the pet's dismay) and Mr. Goode dutifully separates sheets of toilet paper when his wife accidentally buys two-ply. And, of course, the family drives a hybrid. ... Much as Mr. Judge's series "King of the Hill" finds humor in the dramas of a working-class Texas family, "Goode" lampoons a liberal Midwestern household. In "Goode," the characters are often mocked for being green just to fit in with their friends and neighbors. They are a perfect target for the 46-year-old Mr. Judge and his two longtime co-writers, John Altschuler and Dave Krinsky, who have made careers out of finding humor in the follies and pretensions of everyday people....
The
New York Times
hits Judge hard:
But the show feels aggressively off-kilter with the current mood, as if it had been incubated in the early to mid-'90s, when it was possible to find global-warming skeptics among even the reasonable and informed. Who really thinks of wind power — an allusion to which is a running visual gag in the show — as mindless, left-wing nonsense anymore? Mr. Judge, who remains obsessed with the absurdities of political correctness, still has his head very much in the Clinton years, and it is possible to watch "The Goode Family" feeling so thoroughly transported back to another time that you wonder where all the Monica Lewinsky jokes went. Sometimes you've just got to grab your cup of free-trade coffee and move on.
And the
Seattle PI
says:
Why?
One link is via
Redistributing Knowledge
.