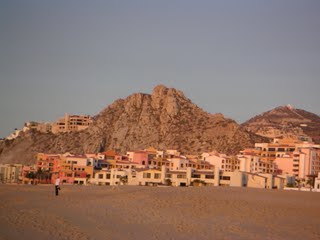 We came to Cabo San Lucas Saturday. Our second trip. It's a beautiful place. But complex, being in Mexico. So you either spend a lot of money or figure things out on your own. My recent study of Spanish is helping already us with resort staff and out on our own. Eating in a restaurant for the locals we got breakfast with table service for $10 including tip. Top photo [has been removed] is the arch at the end of Baja California, which is less than a mile from our resort. Bottom is Playa Grande, our resort, at sunrise on the beach which is on the Pacific Ocean.
Update:
The water of the Pacific Ocean is not safe for swimming. The Sea of Cortez is safe. But from Playa Grande, even though the harbor is within a few blocks, the nearest swimming beach is a 4-mile drive or $5 boat ride across the harbor.
Click photo to enlarge.