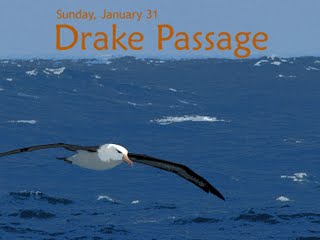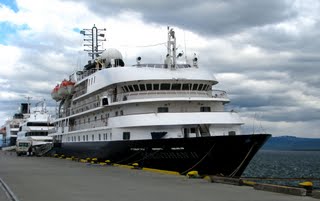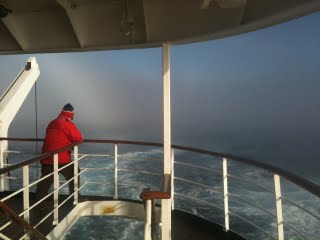 This morning is a "very great Drake."
The Drake Passage is 550 miles across Southern Ocean to South Shetland Islands of Antarctica. We had rolling waves, avg. speed 14 knots. Not quite "Drake Lake" but better than usual. The Antarctic Convergence is the actual start of Antarctica. It is where you meet a mass of cold water 5.4 - degrees colder - from melting glaciers; it's often foggy at the line. Colder water means more nutrients and great increase in sea life. We crossed at 4 am. If our progress remains good we will have time, conditions permitting, to stop at Elephant Island tomorrow.
Schedule for this day at sea: 7:30 to 9:00 breakfast 10:00 Life in the Freezer, part one of 8, 30 minutes 11:30 Naturalist Ken speaking on birds of the southern arctic 17:30 Dr. Earl Palmer ... and more ...
Albatrosses are following our ship, as we expected. Ken of the tour staff is the ornithologist. Wandering albatrosses have very straight wings up to 120 to 140 inch wingspan (10 to 12 feet!). They get whiter as they get older. Those I can identify, but Ken sees much more - several kinds of petrels and prions. Also black-browed albatrosses that have markings by their eyes that make them look very serious all the time. The albatrosses never flap their wings - always soar, even at wave height. They spend months at sea, sometimes resting on the water. They only go ashore to breed and raise the young.
Position at noon: 60 S, 63 W In the later afternoon Dr. Earl Palmer of National Presbyterian Church in Washington, D.C., spoke on The Good Design of Creation.
Graphic and ship photo by Corinthian II crew/staff. A black-browed albatross. A passage morning with snow - my photo.