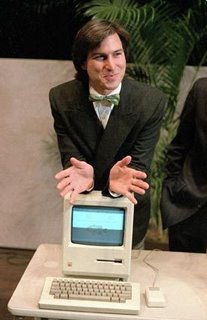 The Mac was introduced at the Super Bowl in 1984. I was a fan from the first day, since I am a very graphic person. I had one on my desk at work in 1986 and bought an SE-30 for home use in 1989 and have owned one or more ever since.
Seattle Times Newspaper
:
The Apple Macintosh, born at the hands of renegade engineers in the early 1980s, changed the relationship between human and keyboard. The Mac, which turned 25 last week, has consistently been an industry pioneer of new technology, including the graphical user interface, speech, Wi-Fi and video. "Apple redefined the computer beyond crunching ones and zeros. It made a technology lifestyle a reality," said Jupiter Research analyst Michael Gartenberg. More than two decades after Mac engineers toiled away in buildings flying pirate flags under the direction of Apple co-founder Steve Jobs, the Macintosh now sits at the center of Apple's digital universe. The company's ability to match hardware with software, such as its popular iLife photo and video programs, is unparalleled in the industry.