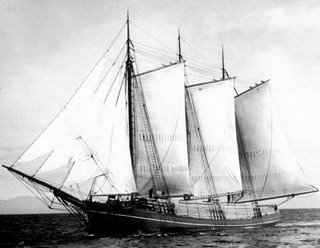 We lost a historic ship. We didn't get it together to preserve her, not that I was involved. Wouldn't it stimulate the eocnomy? Throw us a hundred million or two. Kudos to Kay Bullitt for trying.
Seattle Times Newspaper
: "I call it, 'death with dignity,' " said Kay Bullitt, 84, the venerable Seattle civic activist who had come to the dock to bid goodbye to the Wawona. In 1963, after reading an article in this paper about the Wawona — then already deteriorating — Bullitt began the effort to save the ship. Since then, 46 years have gone by, with thousands of volunteer hours and numerous fundraising efforts. The ship, in 1970, was the first vessel to be placed on the National Register of Historic Places. In 1977, the Wawona was designated an official Seattle landmark. Through all those decades, there was always plenty of enthusiasm from a small core of the Wawona's fans but never enough money. In the mid-1960s, Bullitt said, a dry dock estimate to completely repair the Wawona was $75,000, about $500,000 in today's dollars. By 2005, because of water intrusion that was followed by beetle infestation, a full restoration was estimated at $15 million. And so, said Joe Shickich, president of NW Seaport, the nonprofit that owns the Wawona, the decision was made to demolish her, with portions saved, such as the captain's cabin. The saved portions will be featured in the new Museum of History & Industry going in at South Lake Union Park. "It's a bittersweet day, a melancholic day," said Shickich, who was in another boat, following the Wawona to her end. "She's moving to the next stage." The next stage means that starting Monday, and for at least three weeks, the Wawona will be sawed up at the Lake Union Drydock Company. [...] There were some 200 vessels like the Wawona built in a California shipyard. With the Wawona gone, the only one left is a sister ship, the C.A. Thayer, moored in San Francisco at [
San Francisco Maritime Historical Park
.]
Update
: Who killed Wawona?
Joe Follansbee at Crosscut
says Mayor Nickels is guilty.