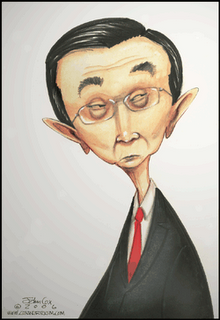 We pay 22% of Ban Ki-moon's budget. So does he thank us? No. He insults us.
The Associated Press: UN chief seeks to smooth over deadbeat comment
:
After drawing a rebuke from the White House, U.N. Secretary-General Ban Ki-moon tried Thursday to smooth over his characterization of the U.S. as a "deadbeat" for its late payments to the world body. "My point was simply that the United Nations needs the fullest support of its members, and never more so than in these very demanding times," Ban told reporters at U.N. headquarters The White House objected to Ban's use of the word "deadbeat" to describe the U.S. during a private meeting Wednesday with lawmakers at the Capitol, a day after he met with President Barack Obama in the Oval Office. White House press secretary Robert Gibbs said Ban's "word choice was unfortunate," given that the U.S. is the largest contributor to the United Nations.
Of course Obama's Robert Gibbs wouldn't dare tell a jerk that he was a jerk. "Unfortunate..." Image via the defunct Cox and Forkum.