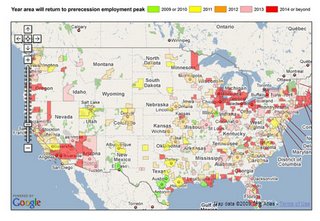 While signs indicate that the worst of the recession may be over, only six metropolitan areas across the country are expected to regain their pre-recession employment levels by the end of 2009, according to projections from IHS Global Insight, a leading economic forecaster.
McClatchy newspapers
:
The areas poised for a jobs rebound later this year are: Anchorage, Alaska; Champaign-Urbana, Ill.; Coeur d'Alene, Idaho; Columbia, Mo.; Laredo, Texas; and the Houma-Bayou Cane-Thibodaux areas of Louisiana. Only five areas are expected to see a similar jobs recovery in 2010: Las Cruces, N.M. and El Paso, San Antonio and the McAllen-Edinburg-Pharr and Austin-Round Rock areas of Texas. Most of the country — 286 of 325 metro areas covered in the IHS analysis_ aren't likely to regain their pre-recession employment levels until at least 2012. Of these areas, 112 probably won't return to their recent peaks until 2014 or later. These include Rust Belt towns such as Cleveland, Dayton and Akron, Ohio; Detroit, Warren and Flint, Mich.; the hurricane-ravaged Gulfport-Biloxi, Miss., area and the greater Los Angeles region, where the housing bubble and high unemployment have strangled the local economy.
Rush Limbaugh
points out that the slow recovering areas are the Democrat strongholds. The map should make them dark blue. The Sacramento Bee has an
interactive map and database
for deeper exploration.