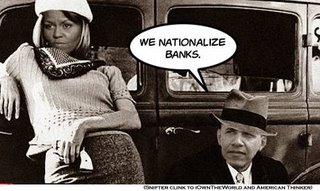 There are many others, but this is tops for me. Six months after Bernie Madoff confessed to his ponzi scheme that took, he claimed, $50 billion from thousands of people, including his own sister, he was banned from the securities business by the SEC. Six months later? 
There are nine more at the link. Tax cheat Timothy Geithner is well represented; he earned it.
Personal Finance News from Yahoo! Finance
:
SEC Bars Madoff...Just in Time! All hail the Securities and Exchange Commission, the newest inductee in the Fat-Lot-of-Good-That-Does-Us Hall of Fame. A mere nine years after SEC staffers started getting hit over the head with red flags about Bernard Madoff's fishy finances, the commission finally got around to taking decisive action: In mid-June, the commission barred the Ponzi-schemer from the securities business. Of course, this investor protection came only after Madoff stole more than $13 billion, pleaded guilty to multiple felonies and went to jail. With regulators like that, who needs regulators?