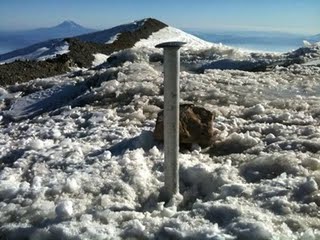 Global warming? No. An exposed marker on Mt. Rainier was always exposed.
Seattle Times Newspaper
: s global warming shrinking Mount Rainier? A survey marker atop the Northwest's tallest peak sure makes it look that way. Protruding from the summit with nearly 2 feet of pipe high and dry, the marker appears to have melted out of the ice cap that covers the mountain's highest point. But records from the U.S. Geological Survey (USGS) tell a different story. The marker was never buried beneath the ice — and wasn't installed on the summit in the first place, said surveyor Larry Signani, who led teams that remeasured the mountain's height in 1988 and 1999. "It looks like the original," he said after examining photos of the marker. "But it didn't melt out of the ice." The marker was installed by the USGS in 1956 on bare ground on Rainier's crater rim, more than 200 feet from the actual summit. The rocky rim is almost always snow-free, swept bare by wind and warmed by steam that rises from the volcano's depths.