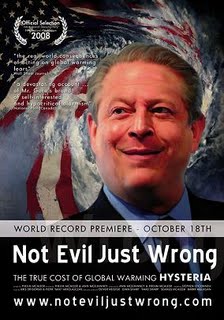 Al Gore received a Nobel Prize and an Oscar for claiming in his film "An Inconvenient Truth" that humans cause global warming. Today, because of this film, school children fear that polar bears are drowning and they and their parents will be next. And extreme "cap-and-trade" legislation Gore could only dream about a decade ago is now pending approval in the U.S. Senate, estimated to cost billions of dollars, mortgaging the futures of those same children before they've earned their first paycheck. In
Not Evil Just Wrong
two Irish filmmakers take on Al Gore and the blind acceptance of his doomsday agenda. Over 3 years in the making with a budget of over $1million, this explosive documentary exposes the distortions and hypocrisy of Gore and the global warming "industry." It explains the true costs of environmental policies like "cap-and-trade" now before Congress. Today over 31,000 scientists are saying Al Gore is wrong. That CO2 has little effect on planetary temperatures, and there is no climate crisis. But
Not Evil Just Wrong
is the film that explains it all and will decisively change the public's mind about global warming. A film that will change history.
Washington Policy Center
is hosting the debut in Washington. They have showings at most of the state four-year colleges and some private ones. See their site for their detailed
schedule
.
All showings are at 5 PM
· University of Washington, Sieg Hall 134 · Washington State University, TODD 216 · Eastern Washington University, Patterson 103 · Central Washington University, SURC Theater 210 · Gonzaga University, Jundt Auditorium 006 · Pacific Lutheran University, University Center (The Cave) · Seattle University, Admin 307 · North Bellevue Community Center, 4063 148th Ave NE, Bellevue
Online
Andrew Breitbart is hosting online viewing at
Big Hollywood
. Go there at 5 PM to watch.