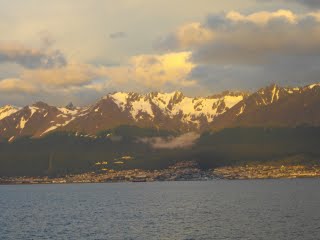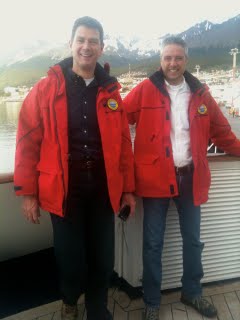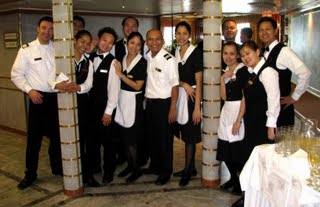 Feb 9, 2010 Tuesday We sailed/motored west in the Beagle Channel, arriving at Ushuaia while a beautiful sunrise was lighting up the southernmost city in the world.
Travel Dynamics
helpfully arranged for our group spending the night in Buenos Aires to be on the first flight, so we could have the full day in Buenos Aires, since we had already spent two days in Ushuaia. Those who were going directly to international flights took later flights and had free time or bus tours of the Tierra del Fuego National Park which we saw before our embarkation. I appreciate such thoughtful planning. This was a great trip. The ship is well appointed; even the cheaper rooms are much larger than the standard rooms on the big cruise lines. The meal service was first class - white cloth table cloths for every meal. It is challenging to do first class meals when you visit no ports for ten days. How do you acquire fresh produce? We were asking the waiters on the last days how there were serving fresh lettuce. They told us they have a greenhouse on the top deck. But they weren't offering tours and the area is not open to us passengers, so we took that with a grain of salt. The meals were excellent. The guides/naturalists were excellent: all good communicators and very knowledgeable. The zodiac boat operation went so well that I was repeatedly amazed at how they had boats in the water while the captain was setting the anchor then a few hours later the ship seemed to depart the anchorage while the last boat was being hoisted.
Photos: My photos: Ushuaia sunrise. Fons and Tom are Dutchmen who are a credit to their country. For ten days they were always friendly and cheerful. Corinthian II staff photos: Dining staff. Our only view of most of the cooks - when they cooked outdoors at Vernadsky Station.