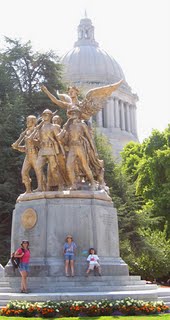 "This is the first time since 1994 that a special session has been needed with one party in control of the Capitol," according to
Politics Northwest
at Seattle Times. Even though they have one-party rule they can't use their time responsibly; they have been there full time since the first week in January. Now Christine Gregoire is leading. She told the Democrat-led Legislature yesterday to get done by Sunday or .... They are working hard. It sure is hard finding ways to cut costs. Wrong. They are not doing that; they tried, sort of, a little. The Senate's proposed budget would raise spending $2.95 billion; the House only $2.7 billion.
EFF (pdf)
Their union supporters see only small trimmings here and there. But no reductions in pay. And many employees
get step increases
while "pay is frozen." That's what we call an Olympia pay freeze = pay raises for some, but not for those who answer the phones. Today in Olympa is all about
increasing taxes
. By majority vote your Legislature
overrode Initiative 960
that required a 2/3 vote to raise taxes. They overrode it because it was "an emergency." If it were truly an emergency 2/3 of them would vot for the tax increases they need. So a bunch of Demos can run in November saying they voted against the tax increases. But they should not be allowed to hide: everyone who voted to gut I-960 was voting to increase taxes on individuals and businesses.