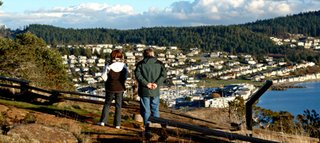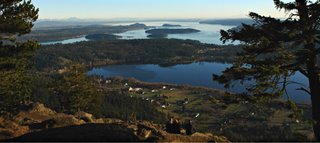 We are paying a short visit to one of my favorite cities in Washington. It is a gem, but is overlooked.
Anacortes
is on Fidalgo Island and is the gateway to the San Juan Islands. So people drive through on their way to the ferry to the San Juans and to Sidney, BC to get to Victoria. Some also come for day cruises or chartering a boat. But these people just rush through and don't appreciate Anacortes. Anacortes is a peninsula - water all around - and has 3 large marinas and some smaller ones. The view to the east is Mt. Baker and two oil refineries - oh, forget that; to the north Guenes Island is very close and served by a county ferry. To the northwest Cypress Island is not regarded as one of the San Juans, but it is more mountainous than any San Juan, but Orcas Island. To the west Decatur and other San Juan islands are as close as 5 miles away. To the south are two private, largely undeveloped islands. There are at least two shipyards. One of them just
built a 90-foot catamarn
for BMW-Oracle - Larry Ellison - Racing Team for their America's Cup challenge.
Washington Park
is a gem - 220 acres on a small peninsula overlooking Rosario Straight. Camping, boat launch, beach walks, etc. For us walkers - soon - and cyclists - soon also - they main loop road is closed every day until 10 am. To enter Anacortes you either drive through Washington's famous tulip fields - they are just starting to open today - or through
Deception Pass State Park
- 77,000 feet of saltwater shoreline - and across the spectacular high bridge over Deception Pass, which is so narrow that boaters need the table for the current speed and direction for safe passage. What a choice.