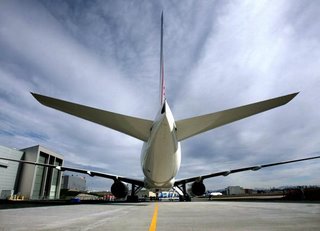 Some new Boeing airplanes are being parked rather than be delivered to the customer to enter service. Two wide-bodies in Everett are painted white, but these are not white tails. "White tail" is the industry term for an airplane built on speculation - without a customer. But Boeing has not NOT built any white tails. All these aircraft were built for customer orders. But some customers cannot use the aircraft now, so they are delaying delivery. Take a very close look at this photo and you see red and white on the tail. It is a 777 Freighter for Air France.
Boeing parking jets around Puget Sound, the desert as buyers struggle | Seattle Times Newspaper
: They look like ghost airplanes and they are a bad $300 million omen for the airplane business. Two brand new Boeing wide-body freighter jets painted all white are parked at Paine Field outside the Everett assembly plant. Two more freighters freshly painted in the colors of China Southern and worth another $300 million flew this week not to Asia, but to a jet parking lot in the Arizona desert. Meanwhile at Boeing Field, three 737 single-aisle jets have been parked outside for many weeks awaiting delivery to Arik Air, of Nigeria. Next to them is a completed but idle AirTran 737. And in Renton, outside Boeing's single-aisle assembly plant, two 737s originally ordered for a Chinese airline are now repainted in the livery of a Dubai-based airline that doesn't start service until June. Because of a global downturn in air traffic, with the airfreight sector particularly hard-hit, many airlines don't need new jets. In some cases, they can't use the planes they have committed to take from Boeing.