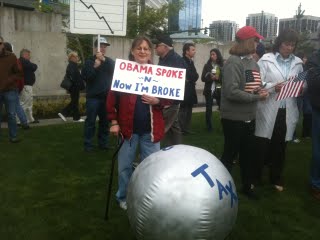 There were tea party gatherings around the state Thursday. In
Olympia:
There were 2,500 to 3,000 at the Capitol.
Seattle Times
reported "several hundred" gathered at Westlake Park in
Seattle
. A good crowd in
Everett
. I was at the Bellevue event. I estimate the crowd at City Hall was at least 300. The crowd was respectful, responding to the speakers' calls for limited spending, lower taxes, less government intrusion and end to one-party rule in Olympia. There were signs on all the big topics with plenty of humor. Against ObamaCare. Against the Mom in Tennis Shoes Patty Murray. "Don't tread on me" flags. A crew from KIRO 7 spent at least five minutes interviewing an over-65 couple with a sign "Cut taxes, not deals."
Spokane
had at least 3,000.
Boise
reported 2,000.
The photo. This woman was dragging this huge ball on a chain labeled "Tax [something]" at Bellevue.